Our Story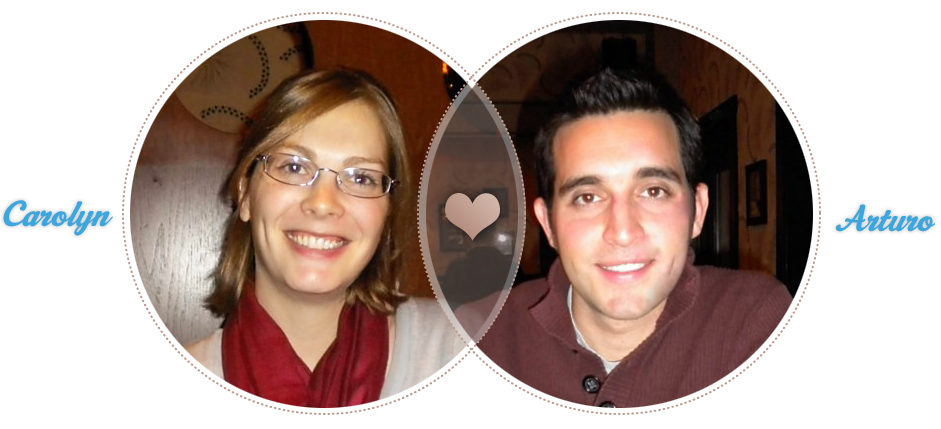 Carolyn and Arturo met in 2005, while working at The Gunnery.
There is nothing like a boarding school campus full of noisy, nosey teenagers to help romance bloom. After 4 wonderful years at The Gunnery, C & A moved to St. Paul's School for a year, bounced to Emma Willard and then finally landed in Simsbury, CT
where they have made Westminster their home.
Six years later, Carolyn and Arturo decided to make it official
and tie the knot. While visiting the Walker clan for Thanksgiving, Arturo took Carolyn for a walk around Graylyn Estate. Next to a beautiful gazebo overlooking a stream Arturo got down on one knee, and Carolyn said "YES!"
---
CAROLYN ~
a southern belle from North Carolina,
enjoys long walks on the beach, snugling with Art, eating macaroni and cheese and watching Greys Anatomy marathons.
ARTURO ~
a tri-lingual Yankee from Connecticut,
enjoys long walks along the Apalachian Trail, snugling with Carolyn, participating in all things soccer and having deep meaningful conversations.
Photos

Event Details

When
June 16, 2012
11am - 5pm
Where
Our wedding ceremony and reception will take place at The Riverview, located at 10 Winslow Place, Simsbury, Connecticut. For directions, please visit riverviewcatering.net.
The ceremony begins at 11am on the East Patio, followed by cocktails, lunch and dancing
in the East Ballroom just steps away.
Attire
Coat and tie for men, and equivalent for women.
Accomodations
Carolyn and Arturo have reserved a block of rooms for you at the Hampton Inn, conveniently located near the Hartford Airport, and just 7 miles from Simsbury. The discount rate is $89/night and is available until May 15, 2012. To make a reservation, please call (860) 683-1118, and mention the Walker/Solís wedding.
Questions?
Please feel free to contact the couple at carolynandarturo@gmail.com
Registry

Dearest Friends and Family,
Yes, we have registered, and most of it is for much needed kitchen wares and home goods. We love to cook, but the 1 pot and 2 knives we currently own just aren't cutting it. So if you would like to help the cause, please visit Bed, Bath & Beyond or Pottery Barn.



But in all seriousness, the best gift you could give would be your presence at our wedding. Having you here with us to celebrate means way more than a new whisk! So if it's between a plane ticket or a Dyson vacuum, we hope you'll choose the ticket! We can't wait to see you all.
Love, Carolyn and Arturo
RSVP