CAMERON WALKER
Owner/Creative Director
I enjoy working one-on-one with my clients to produce creative and useful products that exceed expectations. I love crafting, building, and creating solutions to help your business succeed…and I want us to have fun in the process!
Interested in working together? Or just want to say hi?
Our Strategy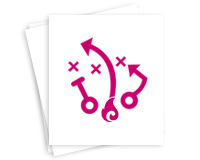 Our creative ideas don't magically appear. They come from solid research, questioning, and listening. When we fully understand the problem, then the creative solutions become apparent. So before we start any project or discover any solutions, we have to understand the problem. So we ask questions. Lots and lots of questions. We do research. And we listen to our clients' wants and needs.
Your feedback and insight help us understand your business and your business strategy. Because if any of our marketing solutions are to be successful, they must be derived from your objectives.
Ready to get started? Just fill out this project planner…
Our Process

Discover
We research. We question, listen and learn. Tell us about your company, target audience and project objectives.

Design
Based on our results from Discovery, concepts, sketches and ideas are presented as drawings or digital mock-ups that give shape to your project.

Develop
Mock-ups are transformed into web pages or final print layouts. Functionality is added and concepts become working, living, breathing realities.

Deliver
The final product is ready for review. We test, finalize, approve, launch, and deliver. Yippee!

Grow
We monitor the project statistics and growth as users interact with your product. We evaluate, research, and improve.

Repeat
Keep your messaging consistent and your audience informed. So what should we tackle next?